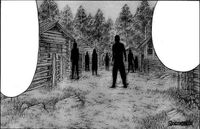 Village in unnamed region. May be in Sutare, Mucha or Lautrec.
After the battle with Agatha in Rabona, Miria has a tense meeting with the Seven Ghosts, Galatea, Clarice and Miata.
There are two translations of her speech. Miria either says "there's a village southwest of the Organization headquarters," which could place the village in Sutare, and that a party from the Organization visited the village[1].
Or: The village is deep in the mountains, in an area in the southwest, the furthest from the Organization's control. The villagers were shocked to see Miria when they saw her (Scene 79, VIZ translation). This is suggestive of a region beyond Sutare and also that Miria was alone.
In either translation, the villagers never heard of Yoma. See "Miria's Hypothesis" in Yoma.
References
Edit
↑

Claymore manga chapter 79
Ad blocker interference detected!
Wikia is a free-to-use site that makes money from advertising. We have a modified experience for viewers using ad blockers

Wikia is not accessible if you've made further modifications. Remove the custom ad blocker rule(s) and the page will load as expected.