Half-Awakened Beings are Claymores that have surpassed their limits and have managed to revert back to their human selves, a more accurate description is that it takes more for them to fully awake. However, only five (one deceased) have accomplished this feat.
In the process of becoming a warrior, they receive the flash of someone close to them. Be that a Yoma that was once a relative or another warrior's flash, although the later there is only one known case.
Perhaps due to compability of flash or the will of the Yoma or warrior inside that also fights their natures, it possibilitated the warrior in question to come back to their human-selves even after having surpassed their limits.
A list of Halk-Awakened Beings. Where they almost Awakened. Why that happened and how they turned back: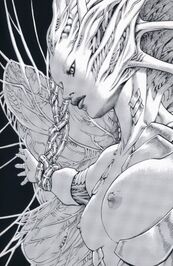 Ad blocker interference detected!
Wikia is a free-to-use site that makes money from advertising. We have a modified experience for viewers using ad blockers

Wikia is not accessible if you've made further modifications. Remove the custom ad blocker rule(s) and the page will load as expected.