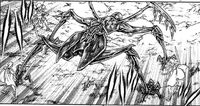 A hunting party normally consists of four Claymores of varying strength, their mission: killing an Awakened Being. Despite the presence of a single-digit Claymore, who is normally included, the hunt can still end with the death or Awakening of a party member.
Organization
Edit
Hunting parties are formed by the Organization upon request from the public (the current situation in Alphonse is an exception, where hunting parties are proactive).
Typically a single-digit becomes the leader of three double-digit Claymores. Normally solitary Claymore are shown and implied to frequently argue when working together. Few examples of team tactics by Claymore are seen, until the mobilization of 24 warriors by Miria in the Northern Campaign.
Notable Hunting Parties
Edit
References
Edit
Ad blocker interference detected!
Wikia is a free-to-use site that makes money from advertising. We have a modified experience for viewers using ad blockers

Wikia is not accessible if you've made further modifications. Remove the custom ad blocker rule(s) and the page will load as expected.